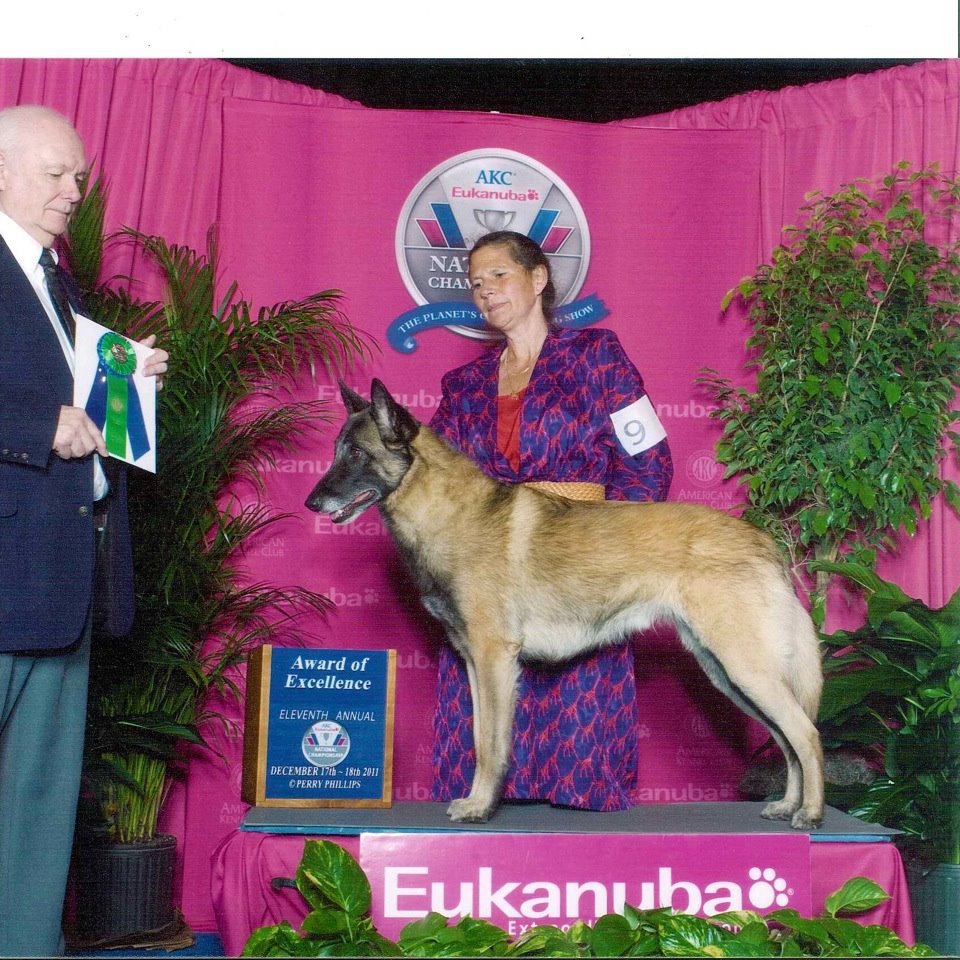 Sire:
BOSS Gr. CH. Turick's Trifecta CDX, PT, RN, TD, ROM II, BH
"ACE"
August 27th, Pups are here!
Dam:
BOSS CH. Belgenbeau Bryscar Cameo, RN, OB2, BH, AD,TT, CGC "CAMEO"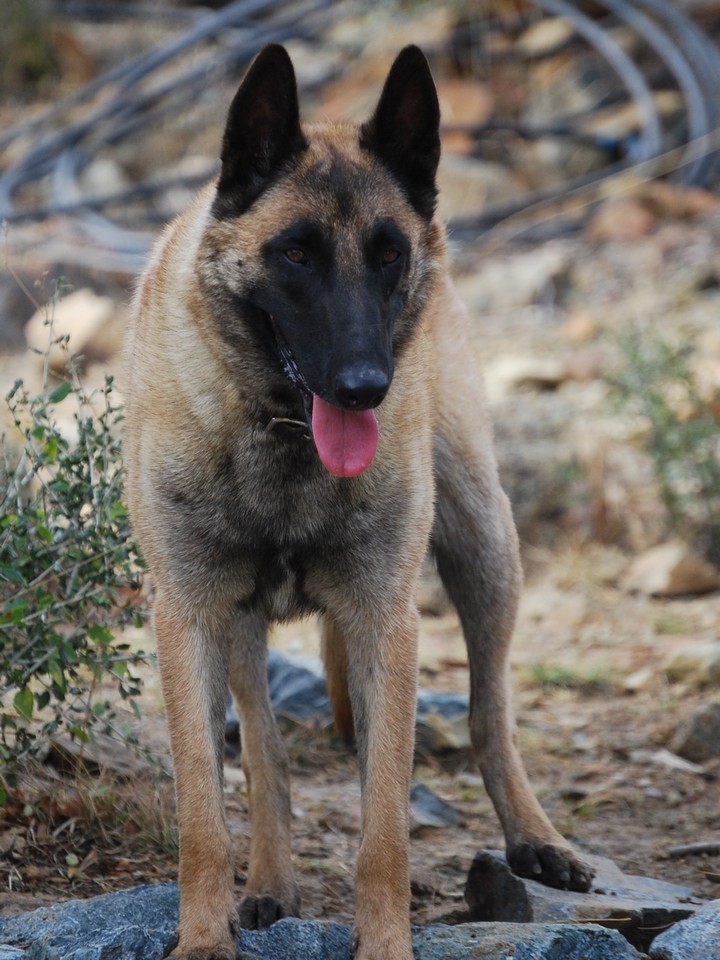 About Ace: (Ace Description by his owner~ April Albert)
Ace is a multiple venue top performer in addition to his good looks and charm. However, his greatest attribute is his temperament. He is always wagging his tail with a smile on his face and a mischievous sparkle in his eyes. He is forever willing to work in the field, play, tug, perform obedience and his all-time favorite, snuggling on any available lap.
Ace is a National Specialty BOS winner under respected breeder judge Linda Robey as well as winning Working Sweeps under respected Malinois Breeder Kathy Greenwood. At 10 months old at the 2008 Malinois national under Janina Lauren, Ace took reserve winners dog and also won BOS Puppy Sweeps under Russ Beach. But, for Ace, looks are just the icing on the cake. Ace completed his TD on his 1st attempt, (currently training for his VST), completed his PT at 10 months old, completed his CD with scores of 196, 198 (tie for HIT) and 197, (currently training in Utility), and completed his BH on his first attempt with a score of 89. He has 1 leg in Herding Started and 1 Rally Advanced leg both of which he will complete in the very near future. Ace is also a certified Service dog again demonstrating the stability and steadiness in his character. Ace's performance career is just beginning and is only limited by the hours in a day. Ace is the total package and what we feel a true Malinois should be. His temperament, character, demeanor, structure, looks and heart make him not only a pleasure to work with but a TRUE pleasure to live with. He is squarely built, full dentition, level bite, 2 UKC conformation majors; always rated excellent. Ace has all of his health clearances. He is OFA Excellent (hips), Elbows normal, CERF clear and OFA Thyroid & Cardiac normal.
About Cami: Cami is a very outgoing social bitch, that seems to have never met a stranger. She has a solid temperament, and absolutely adores kids from infant size on. She likes my cats, but would chase if my cats were not used to the Malinois antics. No problem with small dogs, but would like to possibly harm my parrot if she got the chance . I would call her a 'busy' dog. She needs a lot of mental stimulation. Cam and I went to Westminster in 2010, and she qualified for Eukanuba in 2009, 2010. Not bad for a working girl :)
Structure : Cami is a 23" and 46 pounds. Square construction, Medium Bone. Coat is fawn with a very harsh texture. Ears are medium sized and well placed. Mask is very black, with just a little bleed through under the eye. Very light on her feet.
Working Ability: Cami has no environmental issues that I have found. She is intensely, intensely toy motivated. She will fetch all day long, and loves to run around the house with something constantly in her mouth.
Obedience: her style is very flashy, and is aware of her body while healing. Retrieves are fast and steady, with no mouthing for the dumbbell.Tracking: I am working on slowing her down, but she has a very deep nose in tracking. Protection: loves the fight, has self confidence with the helper, making eye contact. Very high prey drive. Agility: no problems with any of the obstacles.
CH. Turicks Twist of Fate, MX, MAJ, ROM1
Devon~ Triple Ch. Turick's Ewe Bet, HXAs,d, HSAc, HIBd, MXF
Cash~ Triple CH Turick's Ewe Bet PT HSA d,s,c HXA d,s MX MXJ XF ROM I # 1 Herding Malinois 2010
Jack: GCH. Turicks Black Jack, MX, MXJ, XF, HXAs, HIAd, ROM 1
Skyler~ Am CH Turicks The Skye's The Limit HSAs, AX, OAJ, NF

Dice~ AKC pointed
Although this is the first litter for Ace, I used Ace's littermate last year with Brook for the Red litter. I really adored those pups and while they are still young, I am enjoying watching them all grow up. I am excited to use Ace not only because of that litter but also because I met Ace's sire and Dam as well as related dogs at the 2010 national. My general impression of the family? Stable, sensible dogs with Classic Breed type. Can really turn it on when needed, but easy to live with & able to turn if off and be house dogs. I
Pups Herding at 5 weeks