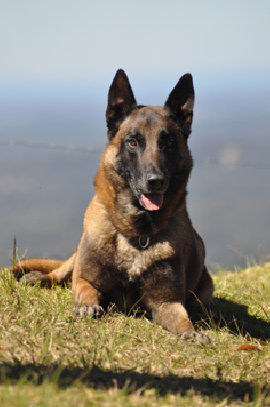 .Details
Owner: A Camiller & R & K Worth
DOB: 1/1/2000

Health
Hips: A
Elbows: 1
Eyes: Clear 26.11.02
Correct Dentition
DNA Profiled



In 2006 while searching on the internet, I came across Bryan. What an impressive dog! I immediately did research on his lines, siblings, progeny, ect. Byran has produced: Australian Military dog, police dogs, sport dogs, Search and rescue dogs and Conformation Champions in multiple countries. In 2007 I imported Frozen semen from Bryan. In 2008 I imported a Byran Daughter Cami (X Belgenbeau BeZed Scarlett) and in 2009, I imported a Bryan Son, Mojo (X Aus CH Belgenbeau BeZed Zara). In short I kinda like the dog <G>. While I have frozen semen from Bryan, I do not have any units for sale at this time. I will be keeping my frozen for future generations.

All Photos Owned By Amanda Camiller